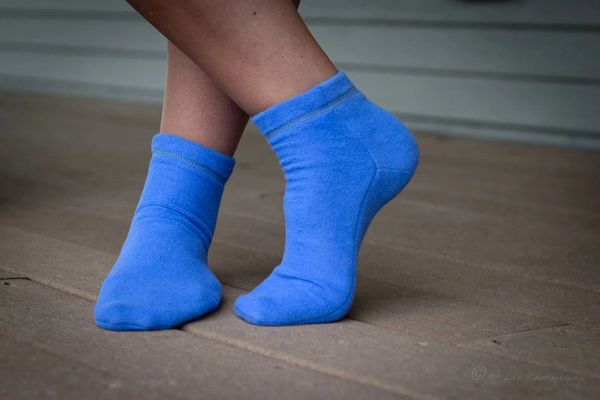 FootHuggersAnklet
Short by design, FootHuggers Anklets offer wonderful comfort for anyone who desires a low-profile sock with all the comfort of FootHuggers. When worn with sneakers, Anklets extend over the top of the shoes covering the ankle. Unlike other anklets/footies, FootHuggers Anklets will not slip down under your foot causing discomfort.
FootHuggers Anklets are a wicking sock that helps control moisture, promoting evaporation of perspiration, and helping to keeping your foot dry. FootHuggers Anklets also insulate your foot keeping you comfortably warm in the Winter. If you prefer a short sock all year long and want warm feet, FootHuggers Anklets are a perfect choice.
Can FootHuggers Anklets also keep you cool in the Summer? Yes they can! In June 2006 at the Peoples Fair event in downtown Denver, the air temperature was 98 degrees. People were HOT!! Everyone was wearing shorts, t-shirts and bare-foot sandals. To prove our point, we had people try FootHuggers Anklets in their sandals. Much to their surprise, their feet felt cooler instantly! FootHuggers are a wicking sock. What that means is they help move moisture away from your skin and promote evaporation. Well, at 98 degrees, evaporation happens fast, and that's cooling to the skin, and that feels great!
FootHuggers Anklets top band is thin and offers excellent stretch. If you suffer with edema or swelling in your lower leg area, FootHuggers Anklets will offer wonderful comfort without the tightness you have experienced in the past. FootHuggers Anklets are perfect for anyone who needs extra room around the lower leg area.
If you suffer with Diabetes and/or Neuropathy, FootHuggers may be your best choice for diabetic socks. Especially if your legs near your ankles are swollen, FootHuggers Anklets are a great choice. No tightness and lots of comfort! FootHuggers also are a wicking sock that helps control moisture too!
If you live with Raynaud's Syndrome, FootHuggers should become your everyday sock. The warmth you will feel will brighten your day. FootHuggers Anklets will be perfect any time of year. Also a great choice as a bedtime sock.
Our products are made from Polartec® Power stretch, a blend of Polyester, Nylon and or Spandex.

Reviews